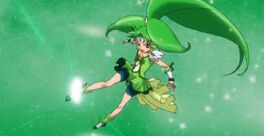 Sparkle Shot
, known in Japan as
March Shoot
(マーチシュート
Māchi Shūto
), is
Glitter Spring's
first individual attack. It first appeared in
Episode 4
of
Glitter Force
. To use this attack, Glitter Spring must have her
Glitter Pact
.
Description
Glitter Spring first charges up her Glitter Pact with fighting spirit, making it glow and granting her power. When enough fighting spirit has been collected, the Glitter Pact explodes with wind energy that lifts Glitter Spring off the ground and into the air. She then compresses the wind into a ball and kicks it at the enemy soccer-style
Incantation
English
Glitter Spring: Glitter Force Sparkle Shot!
Japanese
Cure March: プリキュアマーチシュート!
Romanization
Cure March: Purikyua Māchi Shūto!
Translation
Cure March: Pretty Cure March Shoot!
Trivia
Gallery
Similar Attacks
See also