Jurassic World: Dominion Dominates Fandom Wikis - The Loop
Play Sound
Mackenzie Mack (Kenzaki Makoto in the original Japanese version), is one of the main characters in Glitter Force Doki Doki.
Her alter ego is Glitter Spade or (Cure Sword in the Japanese version.)
Appearance
Makenzie
Makenzie has dark purple eyes and short hair with curled strands, worn with a lilac clip. She wears a white work shirt with a black tie and a long lavender vest, paired with khaki shorts, black socks, and white boots. At times she dons red glasses and a white painter cap.
During summer, Makenzie wears a white and lavender top, lilac leggings, and a denim skirt. Her accessories include a pale brown vest, pearl bracelet, and a spade necklace.
When performing, Makenzie dons a strapless vibrant pink and purple dress with the skirt longer in the back with lavender accents and black ruffles. On the chest is a white bow. She also wears black thigh boots with hearts designs, a black choker with a heart charm, black gloves, a black ribbon around the top of the left arm, and a heart-shaped hair clip.
Glitter Spade
As Glitter Spade, her eyes lighten and her now curlier, lilac hair grows longer, worn in a ponytail with a portion left loose, held by a white winged piece with purple band. She also wears a purple spade hair clip to match her earrings, and a lilac pointed choker. Her lilac dress has white and pale lilac detail and flower-shaped skirt. Her white winged sleeves cover the shoulder, one much larger than the other. On the right hip is a long purple ribbon with heart-shaped tails, and on the chest is a purple gem heart with a spade-shaped ribbon. She also wears lilac thigh boots with white and purple accents, and lilac sleeves with white detail and an indigo bow on the wrist.
Personality
A stubborn girl with a strong sense of justice who is willing to defend others by sacrificing her own safety during battle. She dislikes violence and fighting and as such, preferred to stand alone to keep others out of harms way. Deep down she holds regret at not being able to defend the Spelndorious from the Distain, and wishes to find Princess Marie Angelica soon and return to save Spelndorious. Her true personality is often masked by how she acts and only Davi knows what she is really thinking.
Despite her rational and calm mind, she is shown to be completely clueless to how things work on Earth but she attempts to figure them out with dedication. She is also shown to be slightly flustered when shown kindness, and often does not like to admit her true feelings.
Relationships
Etymology
Mackenzie means "fire-born, "child of the wise ruler" or "comely".
Mack is a shortened version of Mackenzie.
For her Japanese surname Kenzaki (剣崎?), Ken (剣) means "sword", an obvious reference to her Japanese alter ego (Cure Sword), while zaki (崎) means "small peninsula" or "promontory".
Her Japanese name Makoto (真琴?) is a common given name that means integrity and sincerity. Individually, Ma (真) means "pure/true", while the koto (琴) is a traditional Japanese instrument. The whole name can also pronounce as the whole word Makoto (真).
Histroy
Before she joined Maya and her friends, she used to be Princess Maria Angelica's personal guard, but when King Mercenare and the Mercenares attacked Splendorius, she and Marie Angelica escaped, although the princess let go of her hand and disappeared when they travelled through the mirror. She soon after began her search for the missing Princess, using her singing in hopes of finding her.
Glitter Spade
"The blade of courage! Glitter Spade!"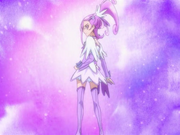 Glitter Spade is Makenzie's Glitter Force alter ego. She represents courage. In Doki Doki Pretty Cure!, her introduction is the same, but said in Japanese as ( 勇気の刃!キュアソード!Yūki no Yaiba! Kyua Sōdo! )
Transformation
Davi calls out her name before Mackenzie places her transformation Glitter Charm onto Davi's silver heart medallion object and shouts "Glitter Force Makeover!"  She then spells "L-O-V-E" on her Glitter Pad and the transformation begins. She is seen with most of her body glowing in purple light. First, her hair glows purple and grows into a ponytail, with her spade shaped earrings and hair accessories already there as her hair then turns to a lighter purple. Her arm warmers appear one after the other followed by her dress and her Glitter Pad attaches itself to it. Next her boots appear after striking her legs together.  She taps her chest with her hands and the heart brooch materializes.  Finally her dress ribbon appears and Glitter Spade poses saying her introduction speech.
Attacks
Sparkle Flash - Glitter Spade's first attack. To activate it, she puts the attack Glitter Charm on her Glitter Pad. She then draws a heart on the Pad's screen. Glitter Spade flies in the air, and then she draws a flurry of swords at the Distain, purifying it. In the original Japanese version, it's called Holy Sword.
Sparkle Sword - Glitter Spade's second attack. This attack could only be done by a Glitter Heart Arrow and a Glitter Charm. She first inserts the Glitter Charm into the Glitter Heart Arrow and then slides her finger across the 4 different colored hearts, activating them and making them shine. The big heart in the top shines in a purple color. She spins with the arrow, then she stops and pulls the arrow's trigger, from that the purple heart shines then rapidly fires a blast of spade shapes to the enemy.
Group Attacks
Togetherness Power Arrow - The first group attack she first used with Glitter Heart, Clover and Spade in episode 15. To perform it, they need their Glitter Heart Arrow and respective Glitter Charms. In the original Japanese version, it's called Lovely Force Arrow.

Five of a Kind Glitter Bow

- The second group attack she first used with Glitter Heart, Clover, Spade and Ace in episode 8 (season 2). To perform it, they need their Glitter Crystal Pad and respective Glitter Charms. In the original Japanese version, it's called  Lovely Straight Flush.
Royal Lovely Straight Flush - The third group attack she first used with Glitter Heart, Clover, Spade and Ace in Episode 10 (season 2). To perform it, they need their Glitter Crystal Pad and respective Glitter Charms.
Power-Ups
Like her Glitter Force friends, she has the power to use full strength, as she gained that she had believed on learning the "one of the rules of Glitter Force". The power-up is shown, as a purple aura appears and surrounds her. She has much greater strength than in her normal form.
Trivia
It was revealed in the Doki Doki! Pretty Cure Complete Book that she had only been a guard for one month.
She is the only purple Glitter Force warrior.
In the first episode of Glitter Force Doki Doki, subtitles named her as Glitter Flash, as opposed to Glitter Spade.
She is the first person to be a Glitter Force warrior before the show began.
Like Glitter Sunny in the first Glitter Force series, she has the shortest hair in her warrior form compared to her teammates.
In the final episode, Mackenzie says that where she's from, people would listen quietly to her singing. This, plus the mention of a hymn service from Princess Marie Ange in a flashback from episode 7 of DokiDoki Precure implies that before the season, she used to sing in a church.
Her Japanese dub counterpart shares the same surname (and spelling) as Kazuma Kenzaki, Kamen Rider Blade. Fittingly, just like Mackenzie, they have a spade motif and their series has the main motif of card suits.
Gallery
Video
https://m.youtube.com/watch?v=HGTGWJOVPS4
References