Davi is a purple, cat-like pixie who helps Mackenzie transform into Glitter Spade.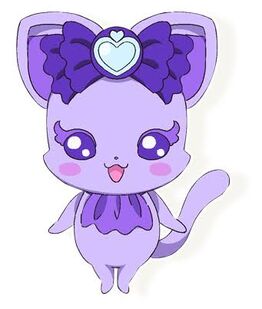 She can transform into an adult human, acting in the role of Mackenzie's manager. She's strict, but she still cares about Mackenzie. In the Japanese version, she ends her sentences with "~da byi!" or "~byi!". She is named after "David", the King of Spades.
Trivia
Davi is the second female pixie after Kippie.
She is the only pixie to not have a bushy tail. Instead, she has a slim and long tail, like a cat's.
She pretends to be Mackenzie's bodyguard.
Gallery