Clara Yotsuba (Alice Yotsuba in the Japanese version, Doki Doki! Pretty Cure) is a character in Glitter Force Doki Doki. Her alter ego is Glitter Clover. After she transforms, her catchphrase is "As warm and bright as the sun! I'm Glitter Clover!".
Personality
Clara is usually calm, gentle, and quiet. However, she is shown to have a bit of a temper, getting angry when someone hurts her friends. She is quite talented in things such as painting, playing the piano, and martial arts.
Appearance
Clara has big, dark orange eyes and matching colored hair worn in two-layered buns adorned with two tiny clovers. A single curled strand of hair sticks out of each bun, while her bangs are cut at eyebrow length and her forelocks reach her mouth. Casually she wears a white dress with scalloped lining above a pale banana-colored section trim with frills and accent by a piece of pastel yellow ruffled fabric to match that of the navel. A vibrant yellow bolero is worn over this with pale yellow ruffled lining and an orange bow sewn beneath the shoulder to accent the ribbon tied at the chest. She also wears goldenrod tights with black mary-janes and a choker necklace.
As Glitter Clover, her eyes and hair become vibrant orange, and her hair grows to waist length, worn in large pigtails curled inward on end and held by two small loops of hair. These are held by gold leafy ribbons with a single strand hanging from it and a green clover that is sewn to the middle, adorned by a gold gem heart. She also gains green clover dangle earrings and a leafy choker. She's short, but she becomes tall when she turns into Glitter Clover. Her yellow dress has mint detailing and a white stripe going down the middle to accent her puffed sleeves, which are held by a mint ribbon. The skirt resembles a flower-shaped tutu with a layer of pastel yellow, followed by two white petticoat layers. Sewn to the navel is a mint ribbon with short, heart-shaped tails, while on the corner of her chest is an orange gem heart lined in mint with a clover-shaped cloth beneath it. Her white boots end below the knee with mint sole and cuff, accent by a golden toe, a bow on the side, and a design going down the middle. On each wrist is a feathery cuff held by a mint ribbon and gold bow. On her right hip hangs the Glitter Pad.
Relationships
Maya Aida and Rachel: The three of them have been good friends since middle childhood and are on the Glitter Force together. Although they attend different schools, they still hang out together and have tea parties.
Mackenzie Mack and Natalie Miller: Fellow Glitter Force warriors.
Sebastian: Clara's loyal butler.
Nellie Knotty: An acquaintance of Clara's and, from Nellie's perspective, a rival.
Lance: Clara's pixie partner.
History
Maya and Rachel first met Clara when they were young, as they attended the same elementary school. In elementary school when Clara was bullied by older boys in the school, Maya stepped in and defended her. Later when the boys bring their older brother back, Clara gets mad and beats them up using her martial arts skills. She finds out about the Glitter Force from the security cameras at Clover Tower and a couple of other areas but has the footage erased to protect the secret. She also finds Lance when Rachel and Maya accidentally leave him at school. Clara is a bit afraid to use her powers at first, preferring to support the Glitter Force from the sidelines. Eventually, she overcomes her fear and steps in to help her friends and transforms into Glitter Clover to protect them.
Glitter Clover
"As warm and bright as the sun! I'm Glitter Clover!"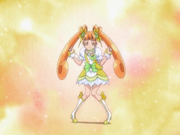 Glitter Clover is Clara's alter ego. She represents warmth.
Transformation
Lance cries out his name before Clara places her transformation Glitter Charm onto Lance's silver heart medallion object and shouts "Glitter Force Makeover!" She then spells "L-O-V-E" on her Glitter Pad and the transformation begins. Clara floats around with her body glowing yellow.  First, her hair glows yellow and grows into two long ponytails. Her hair then turns to a lighter orange and her hair accessories and clover shaped earrings start to appear, as well as her choker. Next, her arm warmers and dress appear as her Glitter Pad attaches itself to her dress. She taps her feet on the ground and her boots appear.  Then she taps her chest and her yellow heart-shaped brooch materializes. Finally, her dress ribbon appears and Glitter Clover poses saying her introduction speech.
Attacks
Come on, Glitter Powers! Give me a shield of Clover! is Glitter Clover's main defense. It is the first defensive attack in the Glitter Force Doki Doki series.
Clover Reflection is Glitter Clover's secondary individual attack. She needs the Glitter Heart Arrow, and her Glitter Charm. She makes a clover-shaped wall that then appears and she uses it for defense. If Clara's not using the Togetherness Arrow, she's usually defending herself and not fighting back.
Etymology
Clara means "clear", "bright" or "famous".
Yotsuba (四葉?) : Yotsuba (四葉) means "four leaves" or "four-leafed", referring to a clover, which is similar in shape to Glitter Clover's designated card suit, the club.
Her Japanese name is Arisu / Alice (ありす?) , as the canon spelling of her name is currently unknown. "Arisu" ("有栖") is a common Japanese girl name, which comes from "有栖川", a common surname for Japanese royalty. In English, "Alice" means "noble", and is probably a tribute to the main character "Alice" from Lewis Carroll's story, Through the Looking Glass. Carroll's Alice travelled to a card-themed land named the Kingdom of Hearts, which fits in with the card theme of Glitter Force Doki Doki.
Trivia
Clara's theme color is yellow.
She and Mackenzie are the only ones to have the second part of their alter ego names changed in the dub, specifically Cure Rosetta to Glitter Clover and Cure Sword to Glitter Spade.
In episode 42 of the original Japanese version, it's revealed that her zodiac is Gemini.

Alice's birth date, which is May 28th, was revealed by Yamaguchi Ryota himself via Twitter, however it is unknown whether Clara's birthday is the same as her Japanese counterpart's.

Clara and Maya are the only two known to retain their original last names.
Gallery 
Go to Clara/Gallery
References
https://www.youtube.com/watch?v=9HXVhPdcRdo