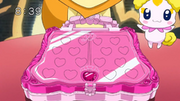 The Charm Chest (Decor Décor in the original Japanese version), is a special trunk used to store Glitter Charm pieces. The item's sole purpose is reviving the Queen of Jubiland when all of the Glitter Charms are collected and placed inside the case. Its first appearance is in Episode 6.
Abilities
The Charm Chest is similar to the Glitter Pact in that it has different functions depending on the Glitter Charm piece inserted. Queen Euphoria has also power to speak telepathically through it, when it happens, it shines brightly. Inside it, there are sixteen places for Glitter Charms.
After collecting a full set of Charms, it shines and transforms into new Glitter Charm, allowing the Cures to create the Princess Wands and transform into Princess form and use Rainbow Burst. The second time this happens is when Candy places the final Charms in their spots, forming a clear beam directly above them and fill the room with light. After the light is gone a Royal Clock appears next to the Charm Chest. The third time, the Miracle Jewel shined brightly to reveal Candy's human form.
Appearance
A large pale pink square with curvy corners. The lid is hot pink with a translucent pink window that has a ribbon border etched on it, along with a ribbon that has a heart on it, and the Smile Precure Symbol on the opposite end. A hot pink gem heart resides above a small clasp with the heart ribbon designed on it. The handle resembles a large flowing ribbon with a heart gem etched in the middle.
The inside of the Chest has three packs of sixteen spots carved into it, each shaped like a heart.
Gallery