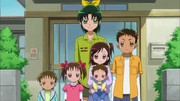 In Glitter Force,Aprilis shown to have six younger siblings. The group consists of seven siblings (3 brothers and 4 sisters), of which April is the oldest. The younger siblings are Calvin, Harriet, Hannah, Hugo, Cody, and Nina. As their parents are active members of the neighbourhood council, they are often away from home and Nao has the responsibility of taking care of her six siblings.
Most of the siblings made their first appearance in episode 4, while Nina made hers in Episode 34.
Siblings
April
April is the oldest one. She goes to Rainbow Hills Middle School. She has green hair, which is tied in a ponytail, and green eyes. Her Japanese name is Nao Midorikawa.
See this page for more information about April.
Calvin
Calvin is the second oldest one. He is the oldest boy in the family. He is mischievous and often leads the other ones in games. He has spiky, dark brown hair, and brown eyes. His Japanese name is Keita Midorikawa.
Keita is voiced by Terasaki Yuka.
Calvin is voiced by Yuri Lowenthal.
Harriet
Harriet is the third oldest one. She has shoulder-length brown hair which is held in a side tail with a yellow hair band and brown eyes. She is usually seen carrying Cody and taking care of him. Her Japanese name is Haru Midorikawa.
Haru is voiced by Akasaki Chinatsu.
Harriet is voiced by Kate Bristol.
Hannah
Hannah is the fourth oldest one. She has shoulder-length brown hair which she ties up into twintails. She helps April in some chores and looks up to April as a role model. Her Japanese name is Hina Midorikawa.
Hina is voiced by Fujii Yukiyo.
Hannah is voiced by Eileen Stevens.
Hugo
Hugo is the fifth oldest one, seeming about kindergarten/elementary school age. He has long floppy brown hair and the lightest shade of brown eyes among the siblings. When he first saw Candy, he thought she was a puppy. His Japanese name is Yuuta Midorikawa.
Yuuta is voiced by Nakagami Ikumi.
Hugo is voiced by Rachael Lillis.
Cody
Cody is the sixth oldest one. He has short spiky brown hair, blushing cheeks,and brown eyes. He loves extremely soft objects, and so takes a like on Candy right away when he spotted her in Emily's bag. He is usually carried around and taken care by Harriet. His Japanese name is Kouta Midorikawa.
Kouta is voiced by Hikida Ryoko.
Cody is voiced by Erica Mendez.
Nina
Nina is the youngest one in the family. She has brown hair like most of them. Her hair is not styled as she was a newborn at the time of her appearance and her hair is not long enough. She was born at the end of Episode 34. Her name comes from the fact that she is the ninth member of the family. Her Japanese name is Yui Midorikawa.